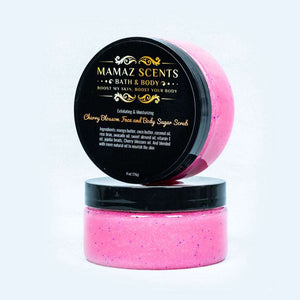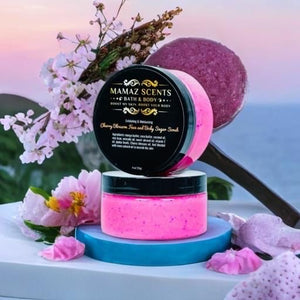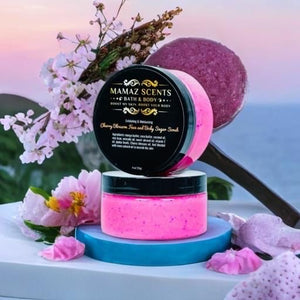 Cherry Blossom face and body sugar scrub
Our face and body Cherry blossom  sugar scrub are ultra hydrating and exfoliating scrubs.  with no Parabens. The scrub cleanses, softens, moisturizes and nourishes your skin. Furthermore, our scrubs help to remove dead surface skin cells without over drying. After shower or bath .Apply the scrub and gently massage upward circulation. Rinse the body to remove the scrub.
The body scrubs contain: coco butter, coconut oil, Rice bran oil, Jojoba oil, Jojoba beads, sweet almond oil, Vitamin E, Avocado oil, pure cane sugar, mango butter. Avocado oil; Vitamin A,D and E found in avocado oil help moisturize and protect your skin from damage. Jojoba oil has a variety of healing properties conditions like acne and eczema.
Coconut oil helps treat acne and protect the skin from harmful bacteria. The scrubs are full of goodness.
Good for all skin types. scent of moisturizing shea butter, coco butter, mango butter, beneficial oil good for the skin.That will leave you feeling fresh. In addition, our exfoliator product is cruelty-free.

In addition, you can also use as a foot scrub to moisturize and soothe rough and dry feet. It helps to remove dry and flaky skin on the feet, leaving them soft and smooth. What's more important lastly is the glow you will be left with. 
Directions
:
Apply a generous amount to damp or dry skin. USE in circular motions for even coverage and effective exfoliation. Rinse well. FOR EXTERNAL USE ONLY.